A direct way to reach, convert and close remotely using video and voice solutions.
High-Definition Video and Audio
Use Callbridge's straightforward user interface to hit record from your browser, desktop, or mobile. It's easy to create sales videos and content on your screen.
Share an MP4 video of your sales pitch directly from your email account.
Use your video to include a link that encourages users to book meetings and learn more without ever stopping or leaving your video.
Record your screen while talking through workflows, navigation, and complex online tools.
Right Here And Now, Hassle-free Video Creation
Inspire sales with video-centric communication material that puts a face to the brand. With just your webcam, you can record and send off any video that emboldens virtual selling, from prospecting videos to follow-ups, introductions, tutorials, demonstrations, how-tos, and more.
Get Your Sales Videos Out Fast
Put your message together quickly and effectively when team members can easily convene in the online meeting room via your unique URL, access code, or by scheduling an impromptu meeting. Click Sales Pitch Mode to automatically record, and save your meeting to send to prospects.
Bring The Sales Team Closer
Make each gathering an opportunity to have all hands on deck and collaborate from conception to execution when recording sales videos. Use transcription and the AI-powered assistant Cue™ to summarize and store content for your team to access later.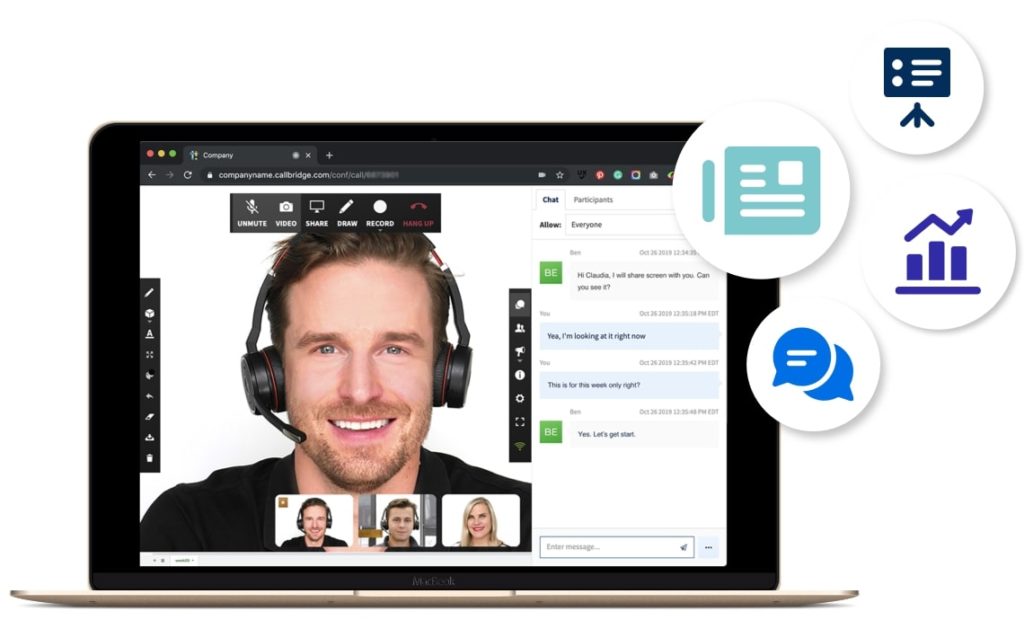 Insert Videos Automatically
With Callbridge, it's simple to personalize the sales copy that goes with your video. Post-pitch, drop your messaging in the pre-prepared email that has your newly recorded video already attached. Hit send and let the video do the hard-selling.
Email Sales Videos Immediately After Recording
Turn any online meeting into a pitch or opportunity to sell, launch or share product knowledge. Simply initiate the Gmail and or Outlook add-on in your Calendar to email videos seamlessly after recording.
Enjoy 14 Days Of Complimentary Callbridge Service
Feel confident with a meeting room collaboration platform that provides unparalleled  communication technology to suit your hardworking business.